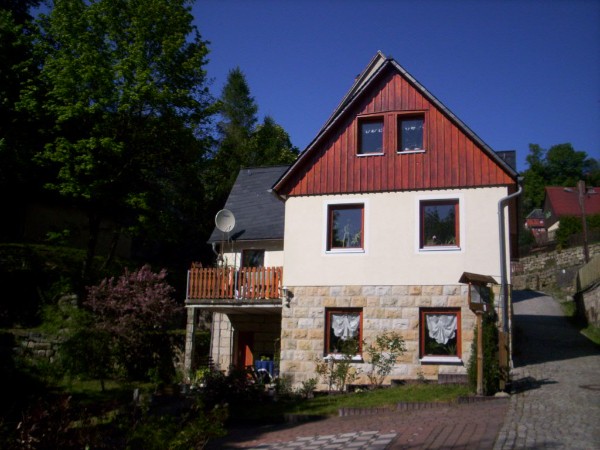 Wir über uns
Schön, dass Sie bei uns vorbeischauen.
Wir möchten uns Ihnen kurz vorstellen:
Wir sind ein langjährige Vermieter dass sich zum Ziel gesetzt hat, Gästen den Urlaub durch perfekten Service und intensive Beratung im Vorfeld so angenehm wie möglich zu gestalten. Unsere Ferienwohnung wurde im April 2011 komplett saniert und eingerichtet.
Gemütlich eingerichete Ferienwohnung für 2 Personen zu vermieten!
Genießen Sie erholsame Ferientage in ruhiger, phantastisch-zentraler Lage und erkunden Sie den Nationalpark Sächsische Schweiz. Wir bieten Ihnen eine ansprechende Ferienwohnung mit überdachter Terrasse, Zentralheizung und Anliegerparkplatz. Eine Aufbettung ist möglich.
Sie zahlen für die Ferienwohnung
pro Übernachtung 25,- EUR
Wir würden uns freuen, Sie bei uns begrüßen zu dürfen.
.
English
About us
Nice that you drop in on us.
We would like to introduce ourselves to you briefly:
We are a long-standing lessor that has aimed at making the vacation for guests as pleasant as possible by perfect service and intensive advice in the front-end. Our vacation dwelling was rehabilitated and fitted out completely in April 2011.

Rent out comfortably eingerichete vacation dwelling for 2 persons!
Enjoy restful holidays in a quiet, fantastic, central location and find out the national park Saxon Switzerland. We offer you an attractive vacation dwelling with a terrace roofed over, central heating and local resident parking lot. An on-bedding is possible.
You pay for the vacation dwelling
per overnight stay 25,-EUR
We would be pleased to be allowed to welcome you with us.
České
Jsme rádi, že se díváte na nás. Chtěli bychom představit sami sebe, aby vás stručně: Jsme dlouhodobý pronájem, který si klade za cíl učinit svátky hosty 'na perfektní servis a intenzivní konzultace s předstihem co nejpříjemnější. Náš byt byl kompletně zrekonstruován v dubnu 2011 a nastavit. Komfortně zařízené apartmány host k pronájmu pro 2 osoby! Užijte si relaxační dovolenou v klidném, fantasticky centrální polohu a prozkoumat Národní park Saské Švýcarsko. Nabízíme atraktivní byt s krytou terasou, ústřední topení a obyvatelé parkování. Přistýlky jsou k dispozici. Platíte za apartmán za noc 25, - Kč Těšíme se na vás přivítat na povoleno.
Nederlandse
We zijn blij dat je kijkt in op ons. Wij willen ons even aan u voorstellen: Wij zijn een verhuur op lange termijn, dat heeft zich ten doel om de gasten 'vakantie naar een perfecte service en intensief overleg vooraf zo aangenaam mogelijk te maken. Ons appartement werd volledig gerenoveerd in april 2011 en opgezet. Comfortabel ingerichte appartementen te huur voor 2 personen! Geniet van een ontspannende vakantie in een rustige, fantastische centrale locatie en verken het Nationaal Park Sächsische Schweiz. Wij bieden een aantrekkelijk appartement met overdekt terras, centrale verwarming en bewoners parkeren. Extra bedden zijn beschikbaar. U betaalt voor het appartement per nacht 25, - euro Wij kijken ernaar uit u te verwelkomen worden toegestaan.